Belleville, DCRP Highlight URSS 2018 Schedule
The Myers Engines sponsored United Rebel Sprint Series will go into their 13th Season in 2018 with a tentative schedule paying more money than any other season in the past. "We've tried to concentrate more on quality shows this coming year with most races paying a minimum of $1000 to win" said founder Rick Salem. Salem also said additional races are still in the works and as soon as verified will be added to the schedule.
Highlighting the season will be the Belleville 305 Nationals on August 3rd and 4th with the preliminary night on the 3rd paying $2500 to the winner with $350 the minimum to start the 24 car A feature. Then it's the "Big One" on Aug 4th with the winner of the 30 lap A feature paying a whopping $7000 to win with $1000 minimum to start the 24 car finale. Non qualifiers will receive $100 on Friday night and $250 on Saturday. This will likely be the largest payout for 305's in the nation with a purse of over $42,000 for Saturday nights A feature alone. To make the weekend even sweeter the Rebels will visit, for the first time, the Thayer Co. Speedway in Deshler, NE for $1000 to win on Thursday night Aug 2nd to make a great three day weekend.
Also to highlight the 2018 schedule with be the DCRP 305 Nationals in Dodge City, KS on June 15th and 16th with the winner taking home a cool $3000 with $600 to start Saturday night's A feature.
RPM Speedway in Hays, KS will once again host the 10th Annual Wheat Shocker Nationals on July 14th and 15th, which will once again pay $2000 to the winner of the 2 day event. Lance Pittman will once again provide a custom smoker/pellet grill courtesy of S&W Supply/Federated Auto Parts out of Hays to the overall point leader for the 2 day event.
The Rebels will also return to the state of Colorado with races scheduled for April 14th at Phillips Co Raceway in Holyoke CO and El Paso Co. Speedway in Calhan, CO on June 23rd. Both races will pay $1000 to win with $200 to start.
Other notables are two races at C Ray Halls 81 Speedway on May 27 and Oct 13 for $1000 to win both nights.
UNITED REBEL SPRINT SERIES 2018 TENTATIVE SCHEDULE
APRIL 14 PHILLIPS CO. RACEWAY HOLYOKE, CO
MAY 26 DODGE CITY RACEWAY PARK DODGE CITY, KS
MAY 27 81 SPEEDWAY WICHITA, KS
JUNE 15 DODGE CITY RACEWAY PARK DODGE CITY, KS
JUNE 16 DODGE CITY RACEWAY PARK DODGE CITY, KS
JUNE 23 EL PASO CO SPEEDWAY CALHAN, CO
JULY 3 BELLEVILLE HIGH BANKS BELLEVILLE, KS
JULY 6 THOMAS CO. SPEEDWAY (T) COLBY, KS
JULY 7 LINCOLN CO. SPEEDWAY NORTH PLATTE, NE
JULY 14 RPM SPEEDWAY HAYS, KS
JULY 15 RPM SPEEDWAY HAYS, KS
JULY 29 RUSH CO. SPEEDWAY (T) LACROSSE, KS
AUG 2 THAYER CO. SPEEDWAY DESHLER, NE
AUG 3 BELLEVILLE 305 NATIONALS BELLEVILLE, KS
AUG 4 BELLEVILLE 305 NATIONALS BELLEVILLE, KS
AUG 17 OBERLIN SPEEDWAY OBERLIN, KS
AUG 18 OBERLIN SPEEDWAY OBERLIN, KS
SEPT 15 DODGE CITY RACEWAY PARK DODGE CITY, KS
OCT 13 81 SPEEDWAY WICHITA, KS
Note….This schedule is tentative and some dates may be changed and additional races may be added
---
Valesquez Takes URSS/DCRP Soderberg Memorial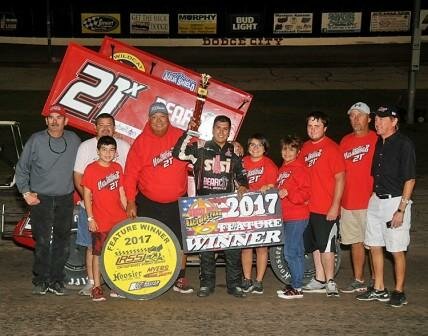 Taylor Velasquez won his first URSS race of the year and secured his second consecutive Precise Racing Products DCRP Sprint Car championship by adding another Jerry Soderberg Memorial Championship win in Saturday night's 25-lap DCRP vs. URSS Sprint Car main event atop the 3/8-mile Dodge City Raceway Park clay oval.
In the 25-lap DCRP vs. URSS Sprint Car feature, Turpin, Oklahoma's Velasquez took advantage of a mid-race caution to preserve his second win of the season aboard the Fronk Oil Co./Bearcat Well Service No. 21x Maxim.
"That caution was a blessing," Velasquez commented in victory lane. "I kept working the bottom, but I was getting tighter and tighter and wondered if the topside was coming in. Then I saw him (Luke Cranston) up there."
With Steven Richardson and Ray Seemann leading the way to the green flag, Velasquez shot into the lead on the opening round. Seemann battled back, with the duo trading the lead on consecutive laps from the eighth to 11th circuit until Velasquez moved to the bottom portion of the track. click here for more results
---
Bubak Tops URSS Bob Salem Memorial Finale!
Oberlin, Kansas – August 20, 2017 - Colorado's Jake Bubak took the lead with two laps remaining to claim the final night of the annual "Bob Salem Memorial" Sunday night at Oberlin Speedway in Oberlin, Kansas.
Taylor Velasquez and Nick Haygood started on the front row for the thirty-lap feature with Velasquez taking the lead as the green flag fell. Hayood, sixth starting Toby Chapman, Blurton and Criag Jecha gave chase with Velasquez comfortably out front.
Saturday night's feature winner Chapman passed Haygood for the runner-up position on lap two while lap six saw Blurton pass Haygood for the third position. Chapman would take the lead on lap 11 only to have his night come to an end when he tangled with a lapped car, sending both off turns three and four with Chapman turning over bringing our the only red of the night. Chapman was okay but done for the night.
The lap eleven restart saw Velasquez still out front with Blurton now second, Haygood third, eighth-starting Bubak fourth and Ty Williams fifth.
A couple caution flags slowed the pace on laps sixteen, seventeen and twenty-one to slow the leaders pace and once race action resumed, so did the battle up front.
Bubak passed Blurton for the runner-up position with five laps to go then caught the rear bumper of Velasquez with three laps remaining. With two laps remaining, Bubak caught the leader and pulled a slide job in turn one and would lead the final two laps to claim his second URSS victory of the season, a $1022 payday and first since May 27th in Hays, Kansas. Click here for more.....
Jed Werner wins the 2 day
overall points Championship
---
It's Chapman in a URSS Thriller in Night One of Bob Salem Memorial!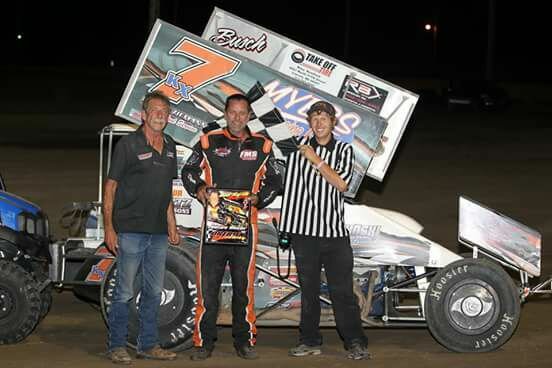 Oberlin, Kansas – August 19, 2017 - Toby Chapman proved patience is a virtue as he passed race-long leader Jed Werner on the final lap to claim the thrilling United Rebel Sprint Series feature victory on Saturday night in front of a packed house at Oberlin Speedway in Oberlin, Kansas on night one of the two-day "Bob Salem Memorial."
Tracey Hill and Werner started on the front row for the twenty-five-lap feature with Werner grabbing the lead as the green flag fell. Werner, Ty Williams, Koby Walters and Steven Richardson were the top five after lap one with Werner comfortably out front.
The feature quickly went red on lap six for a Lonnie Cox flip. He was uninjured but done for the night.
On the restart it was still Werner, followed by Hill and Chapman, who had worked his way up through the field from his ninth starting position.
The feature would be slowed one last time on lap nine for John Webster and when race action resumed, so did Werner's pace out front.
It looked to be Werners night but Chapman had other ideas as the Nebraska veteran passed Hill for the runner-up position with three laps remaining and set his sights on the lead. On the last lap Chapman put a slide job on Werner in turn one with Werner crossing under and they would go side by side down the backstretch. Werner drove hard into the bottom of turn three and slid up back into the lead with Chapman crossing under and nipping Werner at the line by a half car length. click for rest of story
David Smith, Jr.
OKTidbits/PR
(405) 740-4769
oklahomatidbits@aol.com
---
Blurton Pads Point Lead with URSS Victory in Stockton!
David Smith, Jr.
OKTidbits/PR
(405) 740-4769
oklahomatidbits@aol.com
Stockton, Kansas – August 18, 2017 - Current series point leader Zach Blurton took the lead with five laps remaining to claim his first United Rebel Sprint Series feature of the season Friday night at Rooks County Speedway in Stockton, Kansas to open a three-race weekend for the series.
Keefe Hemel and Brian Herbert started on the front row for the twenty-five-lap feature but it was fourth starting Koby Walters taking the lead as the green flag fell.
Walters kept the pace out front while, behind him, sixth starting Blurton passed Herbert for the runner-up position on lap two and set sail on the race leader.
The leaders started lapping cars on lap nine with Walters continuing to set the pace.
---
Cranston King of URSS Belleville 305 Nationals
Luke Cranston's smooth on the fence driving style has always been a good fit at the Belleville High Banks and Saturday night proved no different as the "semi" retired driver jumped into Danny King's mount and claimed his 4th victory in the 8th Annual Belleville URSS 305 Nationals in Belleville, Ks.
North Platte Ne. native John Webster and Zach Blurton out of Quinter, Ks, led the 19 car field to the green with 3rd starting Nebraska's Tyler Drueke taking an early lead going into turn one. Fifth starting Cranston would make a bold move around the top to settle into second and by the end of lap one it was Drueke, Cranston, Webster, Blurton and Oklahoma's Ty Williams rounding out the top five.
Cranston wasted no time getting around Drueke as he drove around him on lap two and began a blistering pace in clean air.
Blurton would make quick work of Webster also on lap two as did Williams on lap 4. Lap 5 got extremely dicey as Blurton would drive under Drueke and Williams would use the very top rim to pass both Blurton and Drueke to move into second and begin his charge to run down the high flying Cranston who had already built up a 15-20 car lead over the field. Wichita's JD Johnson and Nebraska's Toby Chapman moved into the top 5 by the halfway point in the 20 lap feature.
As each lap progressed Williams began cutting into Cranston's lead and by lap 15 was within two car lengths and on lap 17 was on his bumper. Catching Cranston was the easy part, passing him was another. Williams tried one last move driving down to the bottom hard in turns 3 and 4 on the final corner to pull beside Cranston coming off of four but momentum is the key to Belleville and Cranston had it, beating Williams by less than a car length at the finish and collecting the $2000 winners share. click here for more.....
---
URSS Bullring Nationals go to Gullion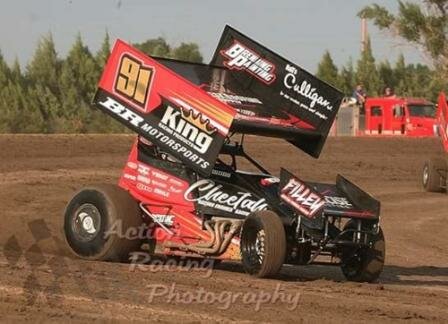 A cloud of dust is how Adam Gullion ended his night. But it came in celebration, not disappointment.
The Nebraska sprint car driver did multiple donuts in celebration Friday night after winning the United Rebel Sprint Series Bullring Nationals at Rush County Speedway in La Crosse in his first trip to the quarter-mile track.
"It's been a really good trip," said Gullion, of Lincoln, Neb. "There's nothing better than winning. It definitely makes the ride home a lot more enjoyable."
If it hadn't been for an earlier phone call from Zach Blurton, Gullion might have been racing elsewhere Friday night — or not at all. Instead, he made the long trek to La Crosse on the urging of Blurton, a fellow competitor who races against Gullion when he travels to Nebraska.
"It's good having him down here," Blurton said. "I enjoy having his company. They're like family to us. They're our home when we go to Nebraska, so we're more than glad to have them. And it's good to see them have success when they came down here."
The success might have belonged to Blurton, if not for the phone call. The Quinter 305 sprint car driver finished second after making a late charge. click here for the rest of the story
---
By Nick Schwein
Shouse Wins URSS Wheatshocker Crown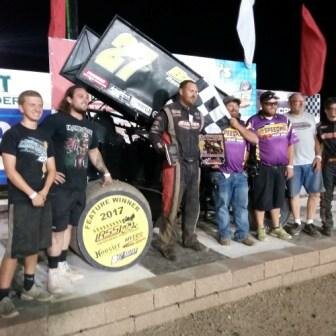 A night earlier, Andy Shouse joked that he needed more laps around the dirt oval at RPM Speedway in Hays since he hadn't raced there for several years.
Apparently, Shouse is a quick learner.
On Sunday night, the 305 sprint car driver from Mustang, Okla., walked away with a victory and $2000 in the ninth Wheatshocker Nationals in Hays. He also took home the Custom Pit Boss Smoker Grille presented by Lance Pittman of S&W Supply for being the high point driver of the Wheatshocker weekend.
Shouse made a late charge en route to finishing second during Saturday night's qualifier. On Sunday, he drew the fourth starting spot.
"To be honest, we really just do our basic stuff," Shouse said about being so fast at the 3/8-mile oval. "I think the big thing is we don't really race at one race track all the time. We usually travel all over and see a lot of different places. I think that definitely helps us when we come to someplace new. It's always tough when you get locals who have run at this race track a number of times. But we're usually pretty good when we go to a new race track of getting it figured out in good time." Click here for the rest of the story and results
---
Richardson Wins URSS Wheatshocker Prelim
Steven Richardson has been so close to winning the Wheatshocker Nationals in the past.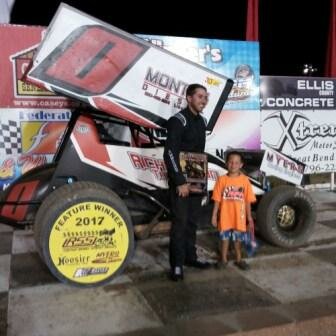 He remembers that race all too well from 2015.
"About a foot or so," the Liberal sprint car driver said about finishing second to Zach Blurton in a photo finish.
So Richardson isn't shy about what it would mean to win the national race at RPM Speedway in Hays — along with the $2,000 payout and an expensive grill as an added bonus.
"Man, honestly, if I were to sweep the Wheatshocker Nationals and take home the grill and the money (Sunday) ... " Richardson said, trailing off a bit. "Because I love this place so much. The fans here are awesome, and the stands are always packed full. People that come to race here are great. This would be huge. This is my Knoxville Nationals. If that means anything to most racers, that's how important it is. I wish we could race here more often. I would never leave." Click here for more.....