IT'S JUST GETTING BIGGER AND BETTER !!!! We have now upped the bonus money to $2500 for our Summer Sizzler Week !!! $1000 to the weeks point champion..$600 for 2nd...$400 for 3rd...$300 for 4th and $200 for 5th. Also Lincoln Co. Raceway in North Platte will now pay $1500 to win plus many contingencies...and there will be a $50 bonus for the fastest lap in each heat race courtesy of Gary and Jackie Herbst of Herbst Towing . We want to thank our sponsors, Myers Engines, Hilker Trucking, Evans Building Co., Downey Drilling and our newest additional sponsors...Colby Automotive, Bottle Gallery, Commercial Sign, S&W Supply and Colby Country Trader Gun Shop, all of Colby for coming on board. Thank you Mandee Hilbrink for securing these additional sponsors and a Big ATTAH BOY to John Webster for all the hard work he is putting into the North Platte show !!! July 3rd through July 9th....Four races in seven days !!! It all starts at the Highbanks in Belleville and travels through Colby on the 7th, North Platte on the 8th and finishes up in Lexington, Ne on the 9th. BE THERE !!!!!
---
ATTENTION !!! MOTEL RATES FOR OUR 3 DAY WEEKEND, JULY 7th - 9th !!!
Colby Motel:
The Quality Inn in Colby is offering a rate of $62 for single or Double. The El Dos Mexican Restaurant is in the lobby and is a sponsor of the track. They are located just north of I-70 on exit 53. Just mention you are with the Thomas Co. Speedway to get this rate. Their pone number is 785-462-3933.
...
North Platte Motel.
Super 8 in North Platte Ne special room rate. $75 double 2-4 person, $70 single 1-2 person for July 7 & 8th. You must call direct ask for sprint car rate 308-532-4224. Jennifer Priest is the manager. You need fo get your reservations early as they are on I-80 and motels fill up fast.
Looking forward to a GREAT 3 day weekend of racing with all of you !!!
---
SCHEDULE ALERT !!! We have rescheduled the rainout in Colby for Friday July 7th. This will make a 3 day weekend with Colby Friday, North Platte Saturday and Lexington on Sunday. Also added to the schedule will be our season championship night at 81 Speedway on Saturday Oct 14th. This will be another $1000 to win $200 to start to finish the season. Hope to see you all there !!!
---
Schwartz Holds Off Wood for URSS/SSO Victory at 81 Speedway
The United Rebel Sprint Series headed to C. Ray Hall's 81 Speedway Sunday night for the "Sprint Car Maynia" show with 94 Sprint Cars in three classes. The first installment of the 2017 Myer's Racing Engines URSS National Points chase show was co-sanctioned with the Sprint Series of Oklahoma with 34 teams pulling through the gate for the $1,000 to win feature payout. Todd Schwartz wasted little time getting to the lead from his third starting position and then held off pressuring Joe Wood, Jr. on the final lap to claim his first career IMCA RaceSaver Sprint Car Series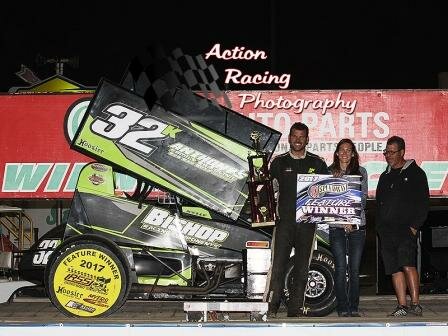 win.
Brandon Anderson and Wood started on the front row for the twenty-five-lap feature with Schwartz taking the lead as the green flag fell with Joe Wood Jr., Anderson, Brandon Long and Steven Richardson rounding out the top five at the end of lap one. Lap two saw Andy Shouse and Chad Koch take over the 4th and 5th positions as Richardson fell back to sixth.
The leaders first encounter with slower cars occurred on lap eight when Chad Koch, who was running fifth, got the end result of two cars making contact on the front stretch and came to a stop in turn one. On the restart Jake Martens and J.D. Johnson were on the tail tank of Richardson looking to take the fifth spot away. Shouse made the pass for the position on lap twelve. At the races midway point it was still Schwartz the leader with Wood still five car lengths behind in second. Click here
---
Jake Bubak Scores Hard-fought URSS Win at RPM Speedway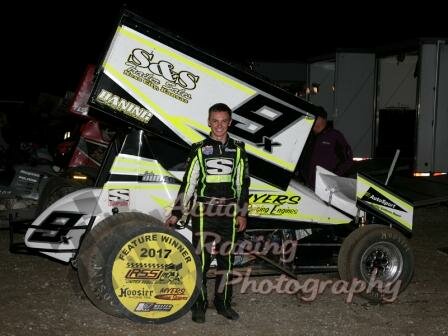 The United Rebel Sprint finally got the monkey off of its back Saturday night before a packed house at RPM Speedway as twenty four teams rolled through the gate to do battle. Mother Nature tried to throw a wrench into the works right before the B Feature but failed to halt the racing action thanks to the Track Staff at RPM they had the 3/8's mile oval race ready after a short break. The fans were treated to an epic battle as three time URSS National Champion Jake Bubak had to battle his way to the win with young guns Jed Werner and Tracey Hill to take the win.
Keefe Hemel led the field to the green with outside pole sitter Tracey Hill jumping out to the lead with Hemel, J.D. Johnson, Jed Werner and Brandon Long rounding out the top five. Jake Martens and Brandon Long made contact sending Martens for a tumble and bringing out the red flag on lap number two; both drivers were finished for the night.
On the ensuing restart Hill once again took the point with Werner grabbing the runner up spot from Hemel with Jake Bubak and Ty Williams rocketing around the top to relegate Johnson to the sixth spot. The top would stay the same for the following seven laps with Bubak slowly working his way up to Werner's tail tank to challenge for the runner up spot. Bubak made the pass on lap number nine and set his sights on the leader Tracey Hill. Click for more
---
A Word From The Series Founder
Welcome to our United Rebel Sprint Series official web site. With the growing support of committed competitors and supporting tracks, an affordable sprint car series is now full throttle. We are now booking dates to area race tracks that will bring back affordable Sprint Car Racing to promoters and participants alike. This series bottom line is affordable open wheel racing... period. We have got to keep the costs down on this class to insure it's growth and make it a profitable opportunity for track promoters. Thus making this series a winner for everyone .... including the fans.
With our pay structure of $500 to win and $125 to start the main, it is designed to bring new competitors into the series and make it feasible to travel to the area tracks insuring full fields. We have adopted a set of rules and feel they are a great set of rules to keep the costs low and the competition close. By enforcing them we can keep it affordable to all. This series has the potential to grow like wild fire and is a great concept to keep open wheel racing alive to all competitors and racetracks. I want to thank you all for your interest and the overwhelming support most have shown for this series.
Please feel free to contact me at any time for more information.

---
United Rebel Sprint Series

900 West Victoria #15

Oberlin KS. 67749

785-475-7010

or e-mail Rick at
---
All content property of United Rebel Sprint Series - Copyright 2006 - 2017

Website maintained by the United Rebel Sprint Series.