Taylor Velasquez from Turpin Oklahoma
drives the Big Joe Velasquez owned Maxim Chassis powered by a Myers Engine Service Engine.
Taylor has been driving Sprint Cars since 2007, and drove
for 5 years in the Mini Sprint divisions before that.
Taylor has one Sprint Car A-Feature win to his credit
at the 2007 Winter Nationals at Clinton, Oklahoma
Velasquez Racing is Sponsored by:
Velasquez Consulting
Velasquez Pumping
Frank Oil Company
BearKat Well Service
S & B Transport
Lezama Concrete
Crew Members:
Abe
Chris
Big Joe
When Taylor is away from the track he enjoys
riding four-wheelers, chasing girls, golfing and the outdoors.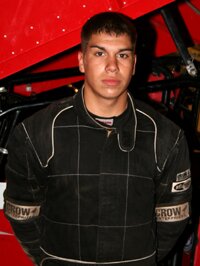 All content property of United Rebel Sprint Series® 2006-2008.
Maintained by the United Rebel Sprint Series.