2016 Myers Racing Engines URSS National Finale at the Jerry Soderberg Memorial
The final race in the 2016 Myers Racing Engines National Points has the Rebels headed back to Dodge City Raceway Park for the fourth annual Jerry Soderberg Memorial this Saturday Night. Current DCRP Points Leader Taylor Velasquez out of Turpin, Oklahoma will be going for his third Jerry Soderberg Memorial win in a row, current IMCA RaceSaver Sprint Series Rookie of the Year points leader Zach Blurton captured the inaugural event win in 2013.
So far in the ten races of the Myers Racing Engines National Championship there have been six different Winners with Luke Cranston taking three feature victories. Zach Blurton and Brian Herbert each garnered a pair of wins in the 2016 season. Jason Martin, Steven Richardson and J.D. Johnson each picking up single wins this season.
Luke Cranston holds a comfortable lead over second place Jed Werner. Werner holds a slim fourteen point lead over past URSS National Champion Brian Herbert who both used strong runs at the last National Points race in Long dale Oklahoma to leap frog Zach Blurton who currently holds down the fourth spot. McCook Nebraska driver Darren Berry is in the fifth spot, Liberal's Steven Richardson sixth and Arcadia Oklahoma's Ty Williams is in seventh spot.
There are five points' battles in positions eight through twenty that separated by less twenty six points or less that will be decided by who qualifies for the Feature event Saturday Night. Positions eight through ten are twenty points apart with Aaron Ploussard, Jeff Radcliffe and Austin Mclean battling for positions. Positions eleven through thirteen John Webster, Jeremy Huish and JD Johnson are separated by twenty six points.
Mike Peters and Koby Walters are eighteen points apart for positions fourteenth and fifteenth place. The closest battle is between Keefe Hemel, Craig Pecha and Lance Davis as they are separated by a mere twelve points for positions sixteen through eighteenth. The battle for nineteenth and twentieth place has Tracey Hill and Nate Berry twenty four points apart.
So come on out to Dodge City Raceway Park this Saturday night and cheer on your favorite driver as they duke it out for the final time in the 2016 racing season. Racing action begins at 7:00 pm with IMCA Modified, IMCA Sport Modified, IMCA Stock Cars, and IMCA Hobby Stocks will be joining the URSS/DCRP Sprint Cars. General admission for the September 24 Fourth Annual Jerry Soderberg Memorial Championship event is just $20 with children 11 and under admitted free when accompanied by an adult.
Dodge City Raceway Park is located on the south edge of Dodge City, KS, on US 283, then 0.9 miles west on US 56, then 0.1 miles south. For more information, contact the track at 620-225-3277 or check www.dodgecityraceway.com.
For all of your informational needs visit the United Rebel Sprint Series on Facebook or check out the Official URSS website at www.unitedrebelsprintseries.com for schedule updates, rules, race recaps, driver info and much more. The United Rebel Sprint Series – "Having More Fun Than The Law Allows!"
---
Zach Blurton Covers the Field at Colorado Motor Sports Park
The United Rebel Sprint Series rolled into the Colorado Motor Sports Park for a Colorado Region point's battle Saturday night with nine teams making the pull to Byers. Current point's leader Austin Mclean went into the event with a slim six point lead over second place Zach Blurton and was looking to add to his lead. But when the night ended it was Zach Blurton who came away with the win.
Todd Plemons led the field to the green flag and grabbed the lead with Justin Medlock, Mark Walinder, Luke Lucero and Zach Blurton rounding out the top five after lap one. Walinder made quick work of Medlock and took the runner up position on lap two. Mark Chisholm worked his way past Luke Lucero on lap three to take over that spot.
Up front Plemons continued to hold the point with the battle for second heated up between Mark Walinder and Zach Blurton. Blurton made his way past the cagey veteran on lap number five and set his sights on the leader. Behind the front duo Walinder was soon joined by fourth running Medlock. Medlock made the pass for the third spot stick on lap eleven.
---
Attention drivers and fans - The final race at Colorado Motor Sports Park has been moved to Saturday, October 8
---
Cranston Takes Win in Exciting SSO/URSS Challenge!

Longdale, Oklahoma – September 17, 2016 - Current Myers Racing Engines United Rebel Sprint Series point leader Luke Cranston worked lapped traffic to his advantage, taking the lead with two laps to go to win an exciting Sprint Series of Oklahoma IMCA Racesaver Sprint Car/URSS co-sanctioned event at Longdale Speedway in Longdale, Oklahoma on Saturday night.
SSO regulars Chris Kelly and Cody Whitworth started on the front row for the twenty-five lap feature with Kelly getting the jump and taking the lead as the green flag fell on the twenty-six car field. Whitworth, Brandon Long and Cranston were the top four running order after the first lap with Kelly holding on to a two car length lead.
Whitworth wasted no time making his move, driving underneath Kelly coming out of turn two to take the lead down the backstretch on lap three. He would open a half stretch lead before reaching the slower cars on lap seven while, behind him, Long would pass Kelly for the runner up position.
Lap ten saw fifth starting Cranston get around Kelly for third as he set his sights on Long and the runner-up position.
At the races midway point it was Whitworth, followed by Long, Cranston, sixth starting Andy Shouse and Kelly as Whitworth's lead dwindled to six car lengths as the leaders continued to enter slower traffic.
click here for more
---
Cranston comes from 8th to dominate Belleville.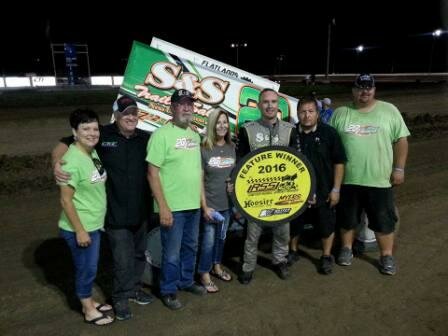 Feature Results
1 Luke Cranston
2 JD Johnson
3 Ty Williams
4 Jeff Radcliffe...
5 Zach Blurton
6 Brian Herbert
7 Darren Berry
8 Howard Van Dyke
9 Aaron Ploussard
10 Jed Werner DNF
Heat race winners - Cranston, Williams
Luke Cranston also takes home the Keizer Aluminum Wheels Hard Charger Award, moving up 7 spots for the win.
---
15 year old Austin Mclean wins his first Feature
at Colorado Motor Sports Park in Byers Colorado
Feature Results
1 Austin McLean
2 Justin Medlock
3 Patrick Bourke...
4 Adam Trimble
5 Scott Rhoades
6 Mark Walinder
7 Scott Cochran
8 Jeff Geig
9 Mark Chisholm DNF
10 Coby Pearce DNF
11 Todd Plemmons DNF
12 Luke Lucero DNF
Brian Hardman DNS
Cris Mueler DNS
Heat race winners - Bourke, Pearce
The Keizer Aluminum Wheels hard charger award was won by Scott Rhoades, starting 12th and finishing 5th.
---
Keefe Hemel Dominates URSS at Rooks County Speedway
The United Rebel Sprint Series made their debut at the historic Rooks County Speedway Friday night and set the ½ mile oval a fire as the track came to life once again with winged Sprint Cars. Eleven teams made the trek to the paper clipped shaped oval, long straightaways and tight corners made for some set-up wizardry. Cimarron Kansas driver Keefe Hemel scored his first win of the 2016 season in convincing fashion mastering the tricky monster half mile.
Timken Kansas's Craig Jecha brought the field to the green flag with Hemel bolting to the lead from his outside pole position with the "Hill City Hot Shoe" Jeff Radcliffe grabbing the runner up spot with John Webster, Darren Berry and Brian Herbert rounding out the top five at the end of lap one. Soon Herbert would close the gap between himself and Berry to take over the fourth spot.
Radcliffe would pressure Hemel lap after lap for the first half of the race as they would race side by side down the back straight for many laps.
Kansas point leader Luke Cranston started his run towards the front from his eighth starting spot with second place points Zach Blurton in his tire tracks. The pair locked in a tight point battle in both the Kansas Region and National points as Cranston holds the top spot in both with Blurton holding down the runner up spot. The two drivers were locked in a three way battle for the fifth, sixth and seventh positions with Berry most of the twenty lap feature as the trio worked their way around the oval swapping spots gaining ground only to lose it a lap later. click here for more
---
JD Johnson Scores Back to Back URSS Wins at the
Highbank Nationals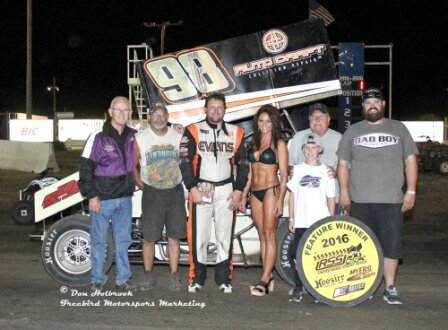 The "Month of Money" officially came to an end as sixteen teams checked into the Historic Belleville Highbanks for the $2,000 to win 4th Annual URSS Belleville Nationals. It was the eighth stop of the 2016 Myers Racing Engines National Points Championship Series. Wichita Kansas driver JD Johnson wired the field to take his second Belleville Nationals Crown in as many years in front of a packed house.
JD Johnson and Jeff Radcliffe led the field to the green flag with Johnson bolting to the point position but before the first lap could be completed a flipping Ken Lutters would bring out the red flag and stop the field.
On the restart once again Johnson jumped to the lead with fifth place starter Ty Williams rocketing to the runner-up position with Steven Richardson, Luke Cranston and Radcliffe rounding out the top five at the end of lap one. Lincoln Nebraska racer Stu Snyder soon was in the tire tracks of Radcliffe and grabbed the fifth spot away on lap two. Click here for more
---
Steven Richardson Victorious at URSS Bullring Nationals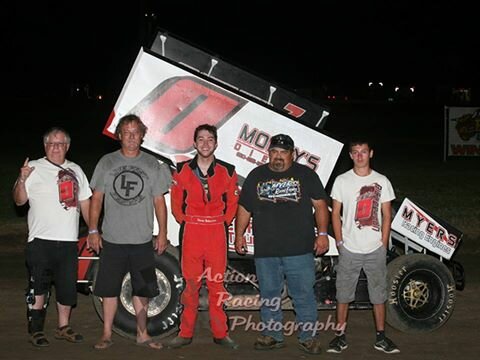 The United Rebel Sprint Series invaded the ¼ mile oval at the Rush County Fairgrounds for the seventh stop on the 2016 Myers Racing Engines National Points Championship. Richardson wired the field from the pole position to pick up his second win of the 2016 URSS Season in the thirty lap feature.
Steven Richardson lead the field to the green and jumped out to the point with outside pole-sitter Koby Walters, Jake Bubak, Darren Berry and Brian Herbert rounding out the top five at the end of lap one. Luke Cranston and JD Johnson both were on Herbert's tail tank and slipped by Herbert to take over fifth and sixth. Cranston soon made quick work of Darren Berry taking the fourth spot on five. The caution waved on lap six as Craig Jecha looped his mount in turn three to slow the field.
On the restart, Richardson once again jumped out to the lead with Koby Walters in hot pursuit. Lap nine saw Cranston close up on the bumper of Bubak with Cranston taking away the third spot. Behind the leaders Jeremy Huish had starting making his way to the front coming from his 15th starting spot to claim the tenth spot by ten. click here for more